"clever and accomplished guitar work embellished with a resonant clear vocal ... some fine slide"




"some superb picking and stupendous vocals"




"... a rollicking bit of slide ... "



A play list of acoustic and solo blues
TV Interview with Dave Allen on his show Pompey Pop
Andy Broad Bluesman!
Taking inspiration from the great delta players such as Robert Johnson, Blind Willie McTell, Son House and Mississippi John Hurt, he combines their raw syncopation with the sounds of Chicago (e.g. Muddy Waters and Howling Wolf) and the modern song writing approach of the likes of Robert Cray welding the whole into a powerful music for the modern day.
Equally at home on Acoustic and Electric guitar, playing both slide and fretted styles Andy considers his music to be Urban rather than Country Blues, after all he lives in the City Of Portsmouth and has never been near a cotton field in his life! The subject matter of his music reflects this urban perspective, whilst remaining very much in the traditions of the music.
In 1985 Andy's career got a kick-start when he became part of the founding line-up of "Duck Soup", fronted by Laurie McVee (now working with Tony Farinha's Werewolves Of London). This was Andy's first band and they were rapidly in demand, being chosen to support several top line acts, including Wilko Johnson and Steve Marriot at Basin's Night Club, the venue in Portsmouth at the time. (BTW this "Duck Soup" should not be confused with the band of the same name currently on the circuit, featureing Nigel Bagge. If you came here looking for that band, try here instead.)
In 1994 Andy was invited to take over the lead guitar for "The Busted Fender Blues Band". There followed 4 years of hard but satisfying work as the band transformed their act from an already successful 5 piece R&B band to a powerful horn section driven blues band. They played many top level supports, working with Canned Heat, The Big Town Play Boys, Otis Grand, Kent Duchaine, Ruthless Blues and many others.
Sadly "Busted Fender" split in 1997, with the leaving of vocalist Mic Arloe being a change too many, but not before Andy had formed the "Rhythm Kings". "Andy Broad's Rhythm Kings" formed in 1996 shortly after Andy and Tim Nowell from Busted Fender got together for a "jam" with Buster Wingham and Frank Kelly from The Fabulous Blues Keys. The music at the jam really "clicked" and so all parties decided that a band would be a good idea. Since that time the Rhythm Kings a have put together a varied set of Chicago and Texas style blues. Some numbers are familiar standards such as Sweet Home Chicago and I'm Ready others, such as Hubert Sumlin's Can't Keep from Crying (nothing like the Muddy Waters number of the same name!) are less known but no less well appreciated. Andy and Buster have contrasting guitar sounds and techniques and enjoy trading licks during many numbers creating an exciting sound that is never the same twice.
Recently he has started to blend in some of his other musical influences, you might hear a hint of indian music in some slide tunes, or a spanish / gypsy jazz inflection to a minor blues. Keeping things fresh and interesting, whilst staying true to his spirit.
For a little over ten years now Andy has been playing some Jazz, orignally teaming up with guitarist Phil Jones. Their regular spot at the "Kitsch n D'or" in Southsea lasted for 8 years becoming a firm favourite, with diners and jazz fans during that time. More recently Andy has been playing guitar in the Shawsax quartet and has been absorbing the music of the likes of Joe Pass, Wes Montgomery, and Django Rheinhardt into his blues repertoire, audiences might be surprised to hear the occasional octave solo creep into his blues playing, and watch out for those diminished runs over the dominant in the middle of an otherwise conventional blues.
Andy can be seen playing at an increasing numbers of venues around the south coast with occasional forays north. But if you can't get to a gig he has several CD's available to order through this website.
"Every Penny Of the Deal" - 2015 Studio Album featuring 11 original tracks and 1 bonus track recorded live in fFrance 2014.

"Live In France" - Recorded on tour in France during September 2011, this live CD features 10 tracks from a performance at the Bar Mary John, Lamlous Les Bains and two bonus tracks recorded at other venues on the tour. (Dixieland Cafe & a private party.)

"Broke Down Engine" - The second solo album from Andy Broad. Recorded at Little Village Studios in Hampshire, September 2005 and release on November 11th. The first guy to buy the CD phoned back next day to say that it was the best CD he'd bought all year. Nice comment obviously a guitar blues fan! review B.I.T.S.

"From The Roots On Down" an all acoustic solo album recorded in 1999 at the Watershed Studios Portsmouth. "... contains a good mix of Andy's own numbers and some well known classics .... if you didn't know, you would wonder who did the originals of his own ones" - Venue Magazine

"Live! At The Bullfrog Blues Club" A live album recorded by "Burnt Ice" at the club in early 2002.

Andy Broad's career is building momentum having been on the same stage as Kent Duchaine, Guy Davis (joining him for an enjoyable version of "Going Down Slow" at the end of the evening), Big Bill Morganfield, Texas Bill Thomas (see pic below), Roscoe Cheneer, Chris Jagger, Canned Heat, Otis Grand, Gwyn Ashton, Aynsley Lister (he still hasn't lived down the night when Andy stood in for him when he 'forgot about' his album launch at the Bullfrog Blues Club, since then Andy has become a regular guest musician when Aynsley performs solo at the club), King Rollo, The Big Town Play Boys, Kelly Joe Phelps and many others. He has appeared at many festivals including The Southsea Folk And Roots Festival, The Roots In The Garden Festival Ventnor (Part of the new Isle Of Wight music festival), Blues At The Abbey (Titchfield), Swanage Blues Weekend, several Pompey Beer Festivals, the Gosport Winterfest, Bentworth Blues Festival, The Guitar Festival Bracknell 2011, Festival Elouges En Blues in Belgium, several appearances at The Two Rivers Festival in Chepstow, Wales.

Leave your email address on the home page if you would like to be notified about gigs, site updates and general items of local blues and roots interest.
If you want to see Andy play check out the giglist.
In the mean time, have a listen to the mp3 music samples on the site mp3 page or if you prefer some higher quality tracks at MP3.com.
Please don't hesitate to get in touch if you would like information on availabilty, fees etc., or to book Andy to play at your blues club or private party.
Andy can be contacted by any of the following methods
by email:

by phone:

(+44) 7951 170 874

by mail:

Andy Broad
46 Jubilee Road
Waterlooville
Hampshire
England
PO7 7RD

---
Review In Blues In Britain 2016
Andy Broad : Homeheights House Southsea - November 20th
This was the first of what I intend to be a series of house gigs in the communal lounge of my retirement building on the sea front. It was entirely fitting therefore that local professional Bluesman, Andy Broad, the public face of the Bullfrog Blues club here in Southsea, launched proceedings.
The first set saw the talented vocalist and guitarist in acoustic mode starting out with his own Indian influenced instrumental based on a Bukka White original.
A "job description" followed with a twelve bar 'I'll Play the Blues For You' before a self penned 'Postcard Blues'. Covers from Sleepy John Estes to Furry Lewis preceded another fine original piece from his first solo release, 'From The Roots On Down'. Andy's powerful resonant timbre and deft guitar work from fast picking to slide impressed throughout.
A fine tribute to BB King led to material from his recent release, bookending some great slide and stomp on a buzzing 'King Bee'. 'Holding These Feelings', and 'Paper' showed why I recently reviewed the CD so favourably.
The second set saw Andy take up his electric guitar and lift the tempo on some terrific Chicago Blues. Magic Slim, and a lovely melange from John Lee Hooker preceded the new release title track 'Every Penny Of The Deal' before more of that resonant metallic timbre on 'How Blue Can You Get' with soaring guitar and a mini walkabout!
Some audience participation on 'Little Red Rooster' with some creditable barks and howls, and the refrain on 'Let The Good Times Roll' brought the set to an end. A deserved encore of 'Dust My Broom' with an oxygen sapping vocal crescendo climax left us all on a high.
An eclectic programme is planned to suit all tastes, but there will be plenty of Blues following tonight's success, particularly as the room's acoustics were so well suited.
Bob Chaffey - Blues In Britain
A short video clip of Andy Broad performing Walking Blues @ Drift Bar June 2009

Review of Andy Broad @ The Auckland Arms, in March 2012 Blues In Britain Magazine




Andy Broad Jammin' With Texas Bill Thomas at The R.M.A. Tavern Southsea.



Here's a press cliping from a recent interview in B.I.T.S. magazine. Click For Readable Sized Copy

For inforation on B.I.T.S (Blues In The South) goto www.bluesinthesouth.com
Andy Broad At The "Red White & Blue" September 2005
Andy Broad At "The Square And Compass" Worth Matravers, Dorset, September 2008
Photographs by Chris Collier.
Andy Broad Sittin' In With Aynsley Lister 2003 @ the Bullfrog Blues Club
Review in Mole Magazine by Greg Watkins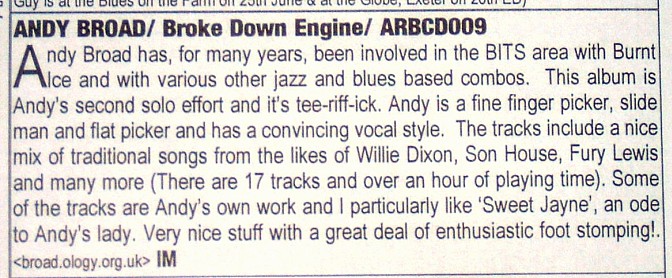 Review of Broke Down Engine in B.I.T.S. magazine by Ian M
Review of Broke Down Engine in Blues Matters magazine by Adrian Blackdee